Eesti keeles:
https://et.wikipedia.org/wiki/Hiina_astroloogia
Inglise keeles Hiina Astroloogia:
https://en.wikipedia.org/wiki/Chinese_astrology
Inglise keeles Hiina Sodiaagid:
https://en.wikipedia.org/wiki/Chinese_zodiac
Inglise keeles Hiina Kalender:
https://en.wikipedia.org/wiki/Chinese_calendar
Vene keeles:
https://ru.wikipedia.org/wiki/Китайский гороскоп
Hiina tähtkujude sobivus
Kuke sobivus Maoga :
http://www.vara.ee/testid/hiinasob.php?s=kukk_madu
Tesite sobivus:
http://www.vara.ee/testid/hiinasob.php
(vali kes omavahel sobib)
Muud horoskoobid
:
http://www.vara.ee/horoskoop/
(keri lehe alla muude horoskoopide nägemiseks)
(
Asteekide
,
Druiidide
,
Aafrika Pärimuse Horoskoop
,
Tervise Horoskoop
,
Unenägude Seletused
,
Nädala H. / Aasta H. / Kassihoroskoop / Tähemärkide Varjuküljed / Ameti horoskoop / Tähtkujude keha / Reisi H. / Dieet ja Tähtkujud / )
Elutee number näitab elutee suunda
http://www.vara.ee/artiklid/index.php?id=880
NUmeroloogia ja Tervis
:
http://www.vara.ee/artiklid/index.php?id=1042
Delfi Naistekas
:
Looma-aasta märk — mida see sinu kohta ütleb
http://naistekas.delfi.ee/horoskoop/horoskoop/looma-aasta-mark-mida-see-sinu-kohta-utleb?id=5626281
2
Kommentaar: "
Ja kuna Hiina kalender algab meie järgi millalgi veebruari alguses, ei vasta vaid aastanumbrite järgi märkide nimetamine tegelikkusele. Jaanuaris sündinud on eelmise aasta sünniaasta märgis. "
2017 on Tule Kuke aasta
(Fire Rooster year)
http://www.chinahighlights.com/travelguide/chinese-zodiac/rooster.htm
ype of Rooster

Year of Birth

Characteristics

Wood Rooster
1945, 2005
Energetic, overconfident, tender, and unstable
Fire Rooster
1957-58,

2017

Trustworthy, with a strong sense of timekeeping and responsibility at work
Earth Rooster
1909, 1969
Lovely, generous, trustworthy, and popular with their friends
Gold Rooster
1921, 1981
Determined, brave, perseverant, and hardworking
Water Rooster
1933, 1993
Smart, quick-witted, tenderhearted, and compassionate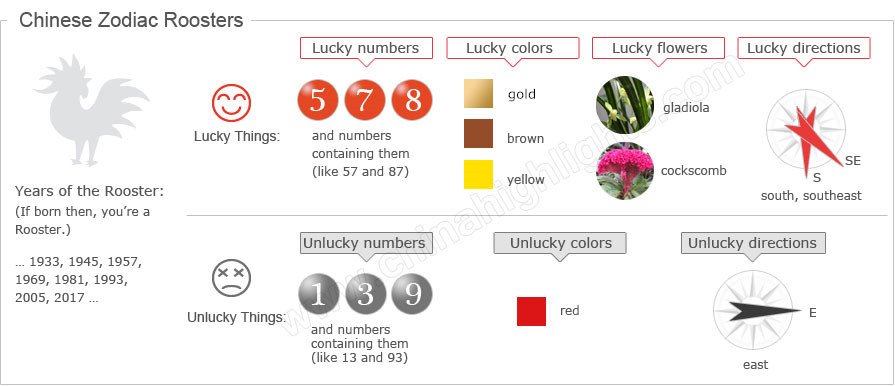 Hiina astroloogia põhineb 10-aastasel päikese-kuu tsüklil, mis on vana Hiina põllumajanduskalendri aluseks. Need tsüklid on jagatud
viieks elemendiks
. Kogu süsteemi hoiavad ülal harmooniat ja tasakaalu kehastavad
yin ja yang
(naiselement ja meeselement).
Hiina astroloogia eri variante kasutatakse ka naaberaladel, nt Tiibetis. Eri traditsioonides loomade nimistu varieerub.
In ancient times, in order to tell the time, people divided one day into twelve 2-hour periods, and designated one animal to represent each period according to each animal's special time.
Rat:
23:00-01:00 (when rats actively look for food).
Ox:
01:00-03:00 (when oxen begin to ruminate and start tilling the land)
Tiger:
03:00-05:00 (when tigers begin hunting prey)
Rabbit:
05:00-07:00 (when, according to Chinese folk tales, the jade rabbit on the moon starts pounding herbs with a pestle)
Dragon:
07:00-09:00 (when, in Chinese folk tales, dragons start marching westwards)
Snake:
09:00-11:00 (when snakes leave their holes)
Horse:
11:00-13:00 (when sunshine is the strongest during the day, and the horses remain rigorous while many other animals lie down to have a break)
Goat:
13:00-15:00 (it is believed that if goats will grow fatter if they eat grass during this time)
Monkey:
15:00-17:00 (when monkeys become very lively)
Rooster:
17:00-19:00 (when roosters return to their coops)
Dog:
19:00-21:00 (when dogs carry their duty to guard the houses)
Pig:
21:00-23:00 (when pigs are sleeping tight and sound)
Hiina Kalender:
https://en.wikipedia.org/wiki/Chinese_calendar
Hiina Sodiaagid:
https://en.wikipedia.org/wiki/Chinese_zodiac
:
| Zodiac Sign | Month | Hour | Characteristics |
| --- | --- | --- | --- |
| Rat - Yang Water | December | 11pm-1am | Careful, creative, accumulative, lustful, hoarding, doubting. |
| Ox - Yin Earth | January | 1am-3am | Patient, persevering, receptive, obstinate, methodical, focused. |
| Tiger- Yang Wood | February | 3am-5am | Wise, compassionate, benevolent, short tempered, proud, aggressive. |
| Rabbit - Yin Wood | March | 5am-7am | Gentle, friendly, intelligent, discordant, fickle, furtive. |
| Dragon - Yang Earth | April | 7am-9am | Proud, aggressive, powerful, uncompromising, arrogant, prejudiced. |
| Snake - Yin Fire | May | 9am-11am | Intuitive, insightful, financially secure, vain, jealous, egotistical. |
| Horse - Yang Fire | June | 11am-1pm | Sociable, keen sighted, high spirited, sensual, talkative, easily angered. |
| Sheep - Yin Earth | July | 1pm-3pm | Graceful, obedient, faithful, timid, pessimistic, sensitive. |
| Monkey - Yang Metal | August | 3pm-5pm | Ingenious, resourceful, curious, susceptible, impulsive, scatterbrained. |
| Rooster - Yin Metal | September | 5pm-7pm | Visionary, versatile, clever, selfish, poor concentration, ostentatious. |
| Dog - Yang Earth | October | 7pm-9pm | Honest, loyal, respectful, stubborn, assertive, demanding. |
| Pig - Yin Water | November | 9pm-11pm | Serious, just, good disposition, reckless, impatient, inflexible. |
Muud:
Varaweebi katekooriad kasulikus interneti info läbivaatamiseks:
http://www.vara.ee/www/
(huumor, retseptid, uudised, huvitav info, )
Neti.ee kataloog:
www.neti.ee
Ilmateade:
http://www.vara.ee/ilm/
Saatekava:
http://www.vara.ee/kava
/